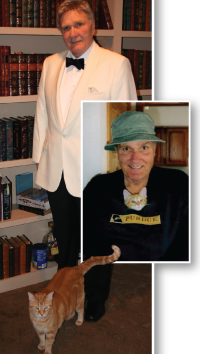 About
A lifelong Hoosier and recipient of the prestigious Sagamore of the Wabash, Thomas Ray Crowel is a Renaissance man.

At ten years old, he sold hobby horses door-to-door that he made in the basement of his family's home. By age twenty, his sales career began in earnest leading him to become a sales guru at the head of three multi-million dollar sales organizations. In between, he earned his B.A. from Purdue and his master's from Valparaiso University.

In 1996, he wrote his first commercial book, "Simple Selling: Common Sense That Guarantees Your Success." A follow-up book exposing the darker side of the sales game, "Dirty Little Tricks: How Salespeople Are Robbing You Blind!" gained him both radio and television notoriety.

In 2006, Thomas Ray turned his attention to writing novels with the publication of his first, "Scattered Harvest." At the request of a Hollywood movie producer, he wrote a screenplay adaptation which won him a Gold Remi Award at WorldFest Houston in 2015.

By 2008, Thomas Ray found himself in the midst of a true-life cold case murder investigation. "The Passerby" is a novel based on his journey to uncover the truth behind 11-year-old Trudie Brice's murder. The book drew the attention of media and citizens who, in turn, brought the case to the forefront resulting in the case being turned over to the Indiana State Police.

Thomas Ray's latest novel, "Cry Uncle, Sumbody," is based on the 1864 diary of a common foot soldier in the Civil War. The novel earned a Benjamin Franklin Award from the Independent Book Publishers Association. His screenplay adaptation of "Cry Uncle, Sumbody" won him a Bronze award in the Beverly Hills Screenplay Competition in 2015, as well as a Silver Remi Award at World Fest Houston in 2016.